Swecare vill börja med att tacka alla som kom till seminariet. Det är härligt att se att temat verkar nå ut till den grupp av företag och aktörer som vi vill involvera, det är självklart flera aktörer vi vill involvera men konceptet att samla både klassiska medtechbolag och lite mer tech-rotade bolag samt vårdaktörer har gett spännande samtal på mingel. Den här gången var de lite drygt 40 personer som kom. Superkul! Tack Karolinska Universitetssjukhuset i Solna för lån av det fina lokalerna. Vilken utsikt! Anna Sahlström Head of International Affairs på Karolinska Universitetssjukhusets började med att hälsa oss alla välkomna.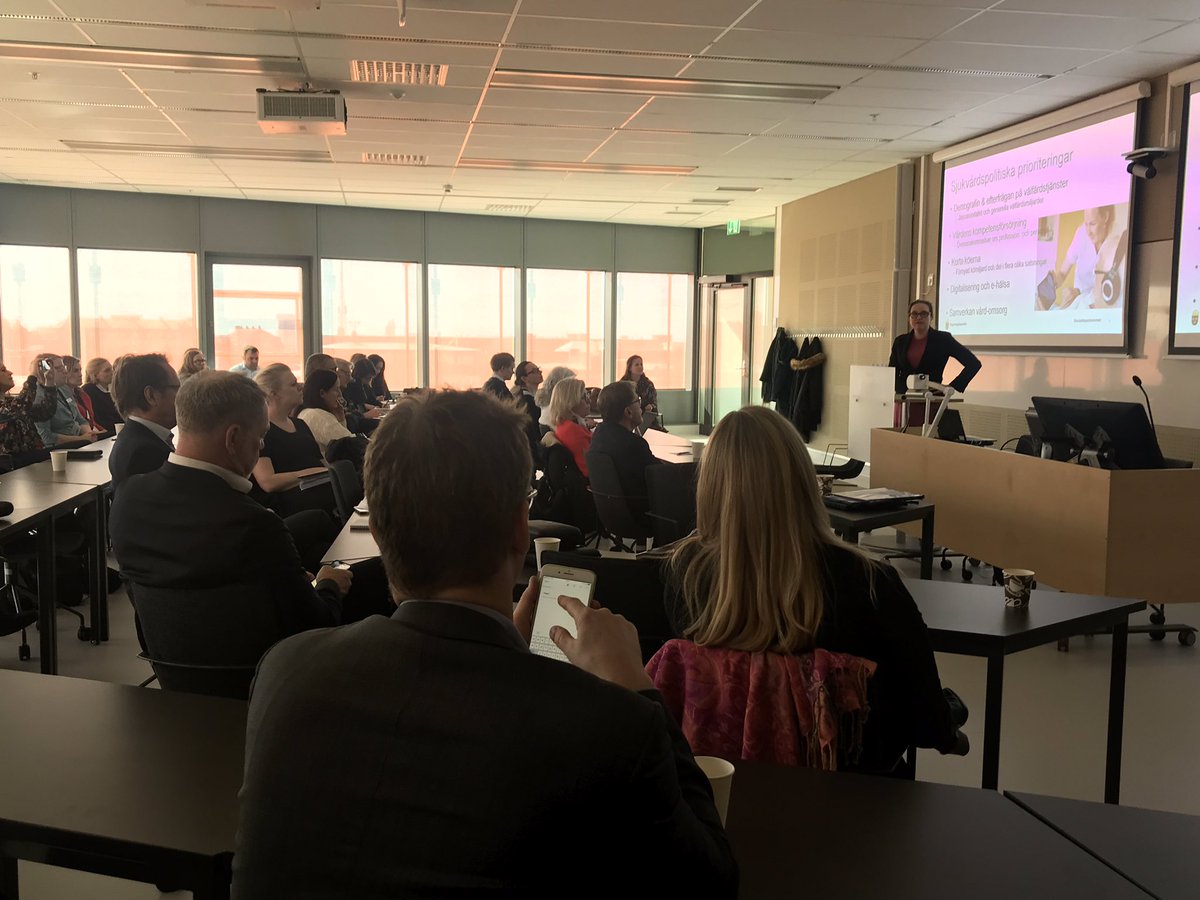 Som första talare var vi glada att välkomna statssekreterare Maja Fjaestad. Med sin teknikbakgrund och intresse inom området beskrev hon bland annat hur utveckling av teknik leder och har lett till frihet på olika sätt. Hon lyfte även prioriteringar inom hälso- och sjukvårdsområdet för regeringen. Några inspel från hennes presentation var; teknopolitik – teknik som används eller designas för att uppnå politiska mål, hur man kan använda medborgargenererad data kring sådant som skulle ta staten evigheter att samla in samt att vården måste bli en attraktiv arbetsplats, både attrahera folk att börja arbeta inom vården men också få folk att stanna kvar.
Näst på tur var Roger Molin, f.d. analytiker på SKL, som på ett målande sätt presenterade var våra framtida stora utmaningar ligger samt hur tekniken kan lösa problemen. En viktig aktör som är känslig för demografiska förändringar är våra kommuner och landsting. Då demografiskt betingade behov innebär stora kostnader för institutioner som skola och barnomsorg är det inte nödvändigtvis den ofta utmålade äldre delen av befolkningen. Sätt till antal är de få till skillnad från de 120 000 barn som föds per år. Vi förväntas ha en befolkning på 11 miljoner 2028 en befolkningsökning som sätter stora utmaningar på vårt välfärdsystem. Roger pekar på att vårdköer kan kortas bara genom att använda tekniken rätt. Låt sjukdomsanamnesen och diagnostisering göras av "datorer" och bjud in flera experter till digitalt möte med patienten för att kunna ge individinriktad prevention.
Angelica Frithiof som är Ordförande för Strategiska patient- och närståenderådet på Karolinska Universitetssjukhuset var näst upp att tala om hur man arbetar inkluderande med patienter. Ett av de tydligaste signalerna från Angelica var att det räcker inte med att lyssna in patienternas åsikter, man måste agera på det patienterna säger.
Efter det gav två av våra medlemsbolag sina företagspitchar på hur deras lösningar verkligen använder patienten och patientens bästa i sitt arbete.
Först upp var Ulf Kindefält, VD på Kontigo Care, som är en AI baserad beroendeplattform, deras lösning ger "patienten" stöd 24/7. De har redan avtal med 96 kommuner i Sverige men det går rasande fort så snart är nog Sverige täckt och resten av världen på agendan. Grannländerna är först ut.dan.
Hannes Palm, Head of Business Development på FRISQ lät oss lyssna på hur de underlättar för vården genom digitaliserade vårdplaner och samtidigt lagt in delar som involverar patienten och ger dem insyn i hela processen. Det är framförallt värdefullt vid diagnoser då du har en längre kontakt med sjukvården.
Det gav alla bra inspel till intressanta diskussioner för minglet efter. Vi ser redan framemot nästa träff, datum kommer inom kort!